bringing current technology to the conservation industry for the benefit of our native species.

SmartTrap™ is a remote sensing and data management system using LoRAWan IoT network that can be incorporated into most existing trap installations. Now traps can be as "smart"as many other devices that we use daily.​ The system is designed to integrate with existing traps on the ground. SmartTrap™ can integrate with other systems such as Google apps, TrapNZ and ESRI/ArcGIS.
Each SmartTrap™ is a single node that attaches to any existing field unit currently in use in the conservation industry. Each node can not only tell if a trap has closed or a mammal has passed by, but can also tell you the temperature, humidity, pH level, sounds pressure level, movement, orientation … or anything really!
This data is sent instantly to a central hub which then populates an online database. Aside from reporting events, the nodes will call in every few hours to report their condition, including battery levels (which last about a year depending on usage)
Data can be represented in many different ways but at present we are displaying real-time events on a ArcGIS online map for both desktop and mobile. Field workers and project managers are also getting instantaneous alerts on their mobile phones and via email when an event relating to them occurs.
Reliability is essential so we have thoroughly tested the system on Aotea – Great Barrier Island over the last two years. The LoRa technology has performed superbly but dealing with the bush-clad terrain and weather was a challenge leading to our latest node design with all components safely enclosed in a tough polycarbonate waterproof case. Four alkaline AA batteries provide the necessary power for years rather than months.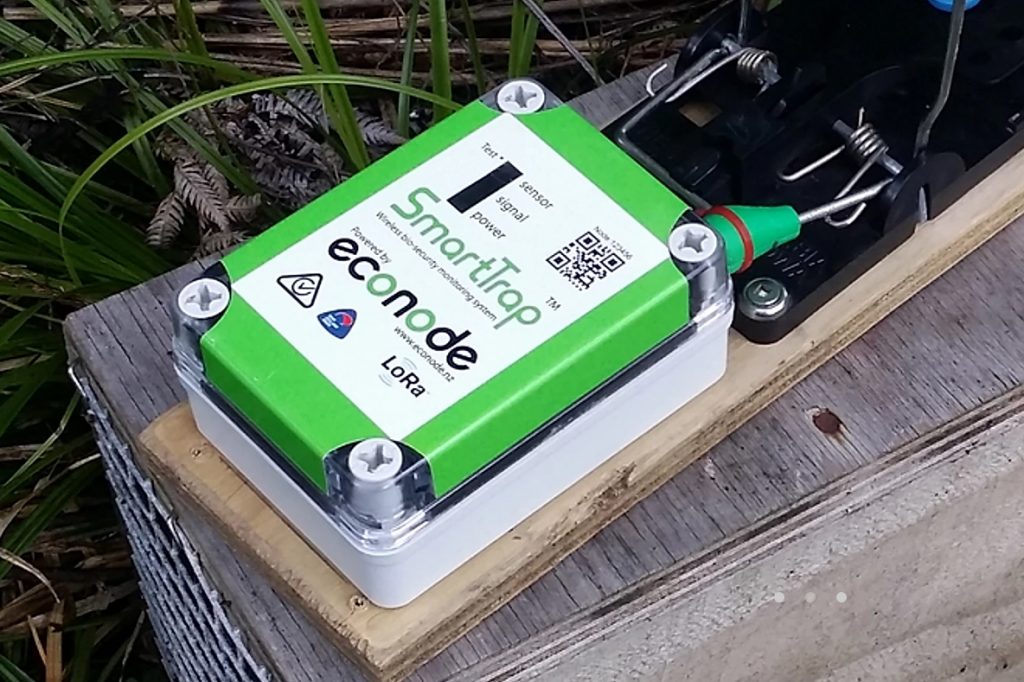 Econode empowers conservation with technology by providing a biosecurity wireless monitoring system using LoRaWAN IoT network.
Econode develops simple and effective tools for other rural and metropolitan monitoring tasks including remote power, vehicle monitoring and gate minding. Their products are the result of successful collaborations between hardware engineering, software development and conservation workers to give the conservation industry the 'edge' it needs and to address the substantial challenges it faces.
1300 919 323
or +61 8 8463 0555
GPO Box 1125
Adelaide SA 5001
Australia
ABN 73 081 314 730

building connections for your city, community, industry or business
specialising in agriculture, viticulture, local government and councils
generating unique data captured directly from the environment
creating accessible platforms to visualise your results
enabling insight, efficiency, innovation and growth
believing your data should be open and owned by you
possessing over 30 years combined experience innovating technologies